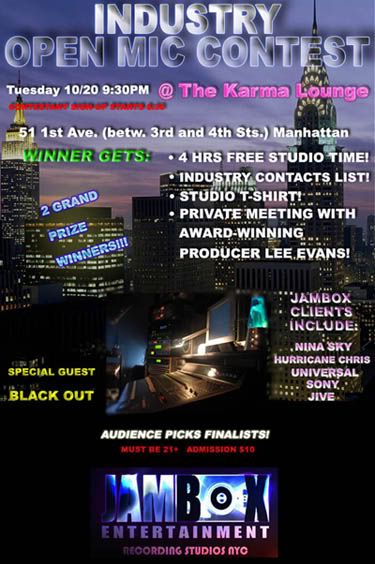 Contest Details:
- Contestant sign-up begins 8:30 PM. First come-first served. There is a cut-off point for number of contestants.
- 2 Grand Prize Winners in 2 categories: rap/hip hop & singer/acoustic/other.
- Total Value of Grand Prize: over $500!
- Show starts 9:30PM SHARP. Winner announced by 12:30 AM. (Audience determines finalist winners).
- Must be 21+ with ID.
- 6 minute maximum per contestant. (You can compete in both categories.)
- Cover charge makes you eligible to perform 1 song. Extra charge for extra song.
- If you are a band, sound check is 7:00PM.
- Amps are available. Bring your own instruments/showtape/tracks.
- Call us at JAMBOX and we can prepare your showtape for you. $10 special. (regular $25).
- 2 weeks of preliminaries (10/20 & 10/27). (2 finalists from each category chosen each week.)
- The final 3rd & last week (11/3) will be the Grand Prize Finals. (A panel of judges determines winners.)