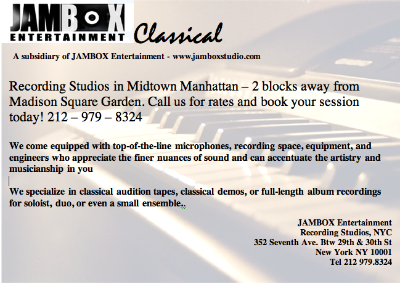 When it comes to high quality, classical recordings, JAMBOX Studios offers the whole package. We come equipped with top-of-the-line microphones, recording spaces, and engineers who appreciate the finer nuances of sound and can highlight the artistry and musicianship in you. Our sound absorption recording booths enable our studios to pick up acoustic sounds that give your performance a unique, personal touch.
We specialize in classical audition tapes, classical demos, or full-length album recordings for soloist, duo, or even a small ensemble.
From Baroque to contemporary, JAMBOX Classical can help you capture the right sounds for your recording—one that will last a lifetime.
Call us for rates and book your session today! 212-979-8324 or 212-273-3426