LARRY PAYTON DRUMMER FOR BRASS CONSTRUCTION FUNK BAND DIES
The music world took yet another hit with the passing of Larry Payton, founding member and awesome drummer for Brass Construction, on March 20th 2016. Payton was a great part of the 'Funk Band" era of the mid 70s and 80s, having 10 albums and a string of hits including Changin, Movin, The Right Place, Walking The Line, Get Up To Get Down under their belts on United Artists and Capitol records. They take their place among the likes of P-Funk, Ohio Players, Confunction, Lakeside, the Barkays, Cameo, BT Express and many more.
I remember when I first heard Brass' Movin and Changin' songs, I flipped. This band had that rugged thugged tight groove which I loved. I quickly became a big fan. Being from the South Bronx, my musical tastes had a strong urban edge…they were it for me. When I found out they were from Brooklyn I was even more blown away. So I felt totally blessed when I was asked to join the band.
I joined Brass Construction around 1980 as a second keyboard player and to give Randy Muller the ability to get from behind the keys and be a front man. The band quickly became my 'On The Road" family as I traveled extensively abroad with them doing tours of Germany, France, London and much more, and kicking A** on every gig. Led by Randy Muller (until the mid 80s) Mick Grudge, Morris Price, Larry Payton, Sandy, Joe, Jessie, Tyrone, Wayne, Wade Lee Twine, and myself became a force of funk to be reckoned with.
Larry Payton was a strong solid drummer, able to hold down that 'Brass Construction' style funk groove. Solid and a heavy hitter, Larry was the nucleus of the BC sound. His playing was strong solid and 'in the pocket' He was also a 'show drummer' always great to watch, and getting the audience involved. I learned a few showmanship tricks from Larry.
Larry and I became friends and had long inspiring talks about what lied ahead for himself as well as the BC band. Larry was a funny guy, always had a joke or quip for everyone. He was always ready to give of himself and was a true team player. I remember him volunteering himself many times and went way out of his way to pick me up with my keyboard at the Brooklyn train to do a rehearsal. He put his heart and soul into his work.
In 2011, Larry embarked on his own solo project with me at my studio, JAMBOX Entertainment Studios in NYC. A promising project that was never completed because of his declining health.
Larry was also a great family man. In our conversations, he would always speak very highly of his wife and children. In fact, his wife Vanessa used to run Randy Muller's office at 1650 Broadway. She is one of the sweetest women you'd ever meet. I met her (around the time I joined the band) we quickly became friends. She was very knowledgeable and helped me immensely to learn how things ran with Brass, and in the music biz in general.
My heart goes out to the Payton family and the large family of musicians friends and fans whose heart Larry Payton has touched over the years. He will be truly missed.
Here are two top Brass Construction records featuring Larry Payton on Drums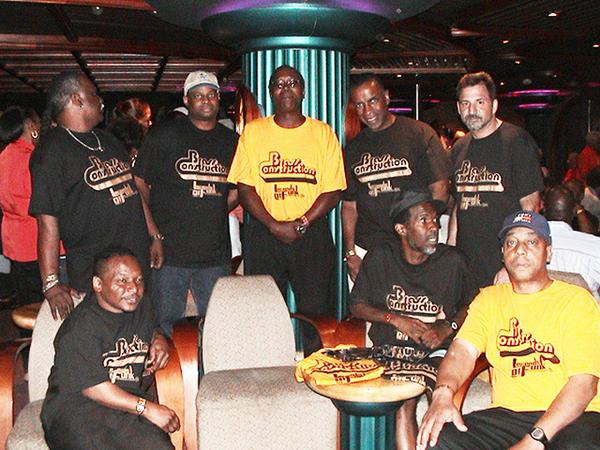 l-r Sandy Billups, Morris Price, Wayne Davis, Larry Payton, Lee, Evans, Lee Twine, Danny Newman, Mick Grudge